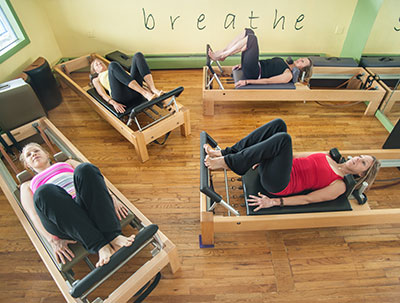 Bridget's careful and consistent work kept me mobile through a long period of fibromyalgia and chronic fatigue. After every workout session, the level of pain was more tolerable and I felt that a burst of energy had been infused in my body to keep me going for a time. It often was the only relief I had.
---Barbara P Frisco, CO
Body Essentials

At Body Essentials Pilates studio, located just minutes away from Keystone, Breckenridge, and Copper ski resorts, we pride ourselves in providing Summit County with the finest Pilates instruction. Our highly trained and certified staff offers a wide range of services to people of all ages and fitness levels. The staff is skilled at teaching beginners the basics and advancing the experienced to the next level of expertise. We also work with athletes and those who are recovering from injury. At Body Essentials, we pride ourselves in taking our clients to the next level sooner.

Body Essentials owner Bridget Crowe has helped hundreds of people reach new fitness breakthroughs. "I'm inspired by how my clients, through their regular practice of Pilates, are able to achieve a higher level of physical fitness…while the special cases [clients managing chronic pain] are important to me, what makes me happiest is simply seeing busy people keep fit and healthy using Pilates. Clients with me for years continue to reach new peaks."


Our Mission

Body Essentials is committed to providing Summit County with the finest Pilates instruction. It is our belief that all Pilates practitioners should be given the proper tools to accelerate their Pilates practice. We believe in teaching only the classical Pilates method to empower our students with mind, body and spirit connection. We are committed to promoting Joseph Pilate's goals of spinal movement and proper breath, and staying true to teaching natural effortless movement.