Please email or call with any questions to reserve a class or private session.
bodyessentialspilates@gmail.com
970-468-1607
---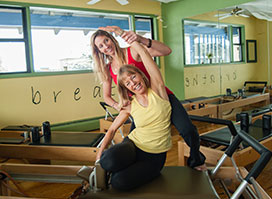 Private Instruction

We encourage you to start with Private Instruction so you will begin your Pilates practice while addressing needs and goals specific to you. You'll be surprised at how quickly you reach your goals and find deep core strength, balance, flexibility, and longer, stronger, leaner muscles.

Private instruction gives you an opportunity to focus on your own goals, strengths, and weaknesses. Working one on one with a highly trained instructor gives you the opportunity to progress in Pilates at your own pace. Deep core strength, balance, and flexibility along with many other wonderful benefits can be achieved in a private session. Whether injured or working toward specific goals, private sessions will help bring you to a uniformly developed body with a strong core.
---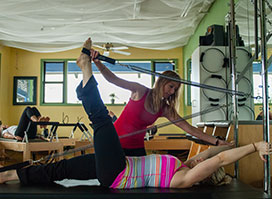 For Beginners—Pilates 101

Non experience, no problem. ..this is a great way to learn the proper form and techniques on the mat and equipment. This comprehensive class will prepare you to participate in our other classes with confidence (the only thing you have to lose is your midsection).
---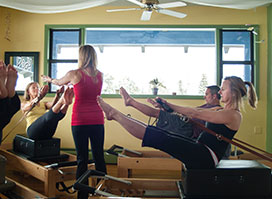 Reformer Class

Reformer Class (beginner to expert available) is the foundation to a strong Pilates career. The Reformer is an exercise apparatus developed by Joseph Pilates to help a person strengthen instabilities and build stronger, longer, and leaner muscles. The full body strength gained on the Reformer comes from its design; the resistance springs are the magic of Pilates. Working on the Reformer teaches one how to move from the core with control and flowing movement. Hone in on your core and abdominal muscles in this full body workout. Using the spring loaded Pilates Reformer, you will increase your full body strength faster than any other form of exercise.
---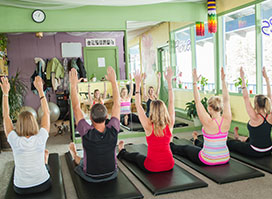 Mat Class

Mat Class is an amazing workout that demands focus on the spine and abdominals. Mat work is an aerobic series of floor exercises designed to create long lean muscles, core strength, and endurance. Most Mat exercises are done lying, kneeling, or in an upright seated position to keep stress off of the heart and lungs. Working against gravity with controlled movements requires and builds strength in the core. Flowing through the Mat exercises brings heat into the body which creates more spinal flexibility which in turn strengthens the core.

---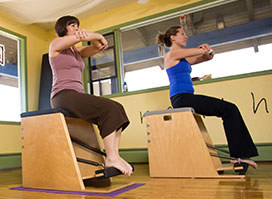 Chair Class

Chair Class works the deep core muscles with this unique piece of equipment. The strengthening benefits of the chair come from the springs as well as the challenging exercises it offers. Whether rehabilitating injuries or partaking in extreme sports, chair class is appropriate for everyone.
---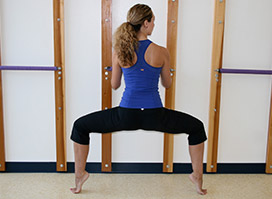 Barre Body

A modern, challenging, and safe barre class that sculpts your body while providing a calorie-burning cardio workout. Set to an up tempo and fun mix of music ranging from classical to contemporary, this class targets specific muscle groups through repetitive movements. It incorporates weights, therabands, exercise balls, and the ballet barre to build core strength while developing long, lean, flexible muscles.
---
Aerial Yoga

Aerial Yoga is like doing yoga with the help of a prop. Using a hammock, or "yoga swing" attached to the ceiling that provides support for the arms, legs, and even suspends the entire body in space. The hammock is used to invert completely upside down and feel as though you are defying gravity that will create space in the spinal joints, and release the fascia. As you sit in it like a swing you'll feel comforting support around your hips and low back that will relieve low back pain. The hammock offers a mat yoga exercise like down dog support in the hips and low back which makes the exercise much easier to execute without being inhibited by tight hamstrings, shoulders, etc. There are a plethora of asanas (yoga postures) that can be executed in Aerial Yoga all which translate to the mat sans hammock so one will continue to master the poses with more awareness and understanding than ever before. All classes are specifically designed to provide each participant the greatest benefits possible, no two classes are the same at Body Essentials.
What to wear: Wear workout wear that covers armpits and legs. Cotton or cotton blend fabric is best (non-slippery). Not too loose clothing. NO JEWELRY.
Sorry Aerial Yoga is not good for people with vertigo, inner ear conditions, recent surgery, glaucoma, recent concussion or head injury, epilepsy, brain aneurism, recent stroke, botox injection (within 24 hours), pregnancy beyond the 1st trimester, propensity for fainting, obesity, hiatal hernia, sutures in any part of the body, recent gashes lacerations or wounds, taking any medications that can cause dizziness, light headedness, propensity for fainting, or extreme fatigue. Please note other contraindications do exist, please discuss with your teacher any health issues to ensure the highest level of safety for you.