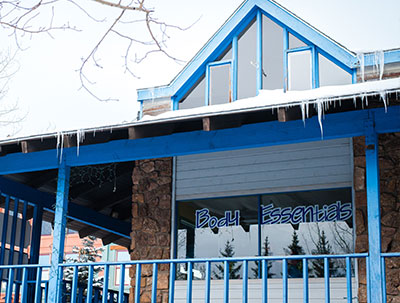 I've had a bad back for 20 years and it has frequently limited my activity. Pilates has allowed me to do things I haven't done in years. As a bonus, the core body strengthening has also improved my skiing and golf. Bridget is why I have been able to consistently attend classes for over two years. Her enthusiasm is infectious and it is like having a personal trainer.
Susan Dillon, CO
Body Essentials Studio
Address and contact information:
119 LaBonte St #207
Dillon, CO 80435
(970) 468-1607
bodyessentialspilates@gmail.com
www.bodyessentialspilates.com
We are centrally located in beautiful downtown Dillon, Colorado just off Main Street and two blocks south of Highway 6. Located just minutes away from Keystone, Breckenridge and Copper ski resorts, Body Essentials is the perfect choice for Pilates in Summit County, CO. We are just minutes from everywhere in Summit County, we're easy to get to from I-70 ant the towns of Silverthorne, Frisco, Keystone, and Breckenridge.
Parking is free and so are the beautiful mountain views from the studio windows!