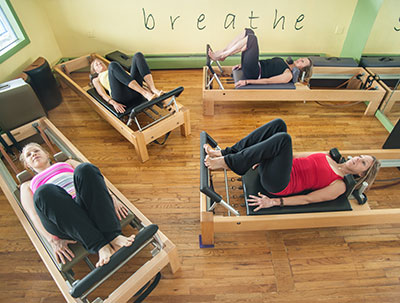 Bridget has always brought a level of profound curiosity and excellence to her pilates training. I am confident that her professionalism as a pilates instructor as well as her commitment to furthering her education in the pilates method is an asset to her community, her studio and her clientele.
---Lisa McAleavy
Teacher Training Program Coordinator
The Pilates Center- Boulder, CO
About Pilates

Pilates is an exercise method created by Joseph H. Pilates in the early 1900's which focuses on strengthening the core muscles (muscles of the trunk that support the spine and pelvis). The Pilates method is meant to unite the body, mind, and spirit, through its principles of breathing, core, flowing movement, centering, concentration, and uniform development. Flexing, extending, twisting, side bending and articulating are the major movements required of the spine which are what strengthens the core muscles. Moving through each exercise with control and concentration takes a seemingly easy movement to another level in the body and the mind.

At Body Essentials we teach the classical Pilates method, emphasizing a strong mind, body connection. Our exceptional instruction teaches proper spinal movement and breath, training natural, effortless movement. Practitioners build fitness and burn calories doing supervised equipment-based and Mat exercises. You'll be challenged to improve your alignment, posture, coordination and balance while developing deep strength, increased flexibility, graceful movement and controlled breathing patterns.

Body Essentials will help you develop core muscles through emphasis on flexibility and breathing. You'll gain strength, improve coordination and flexibility and get flatter abs.

You'll look great and feel better. Anyone at any level can get fit and stay fit.